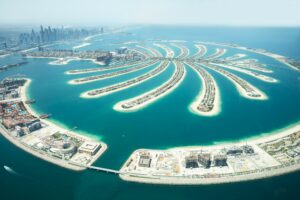 The must-see destination of Dubai within the United Arab Emirates welcomed a total of 10.44 million international tourists in 2018, according to official statistics from VisitDubai.com. As of August 2019, that total had been surpassed by an impressive 10.85 million individuals who made the trip. With this figure in mind, it's no wonder that Lifestyle Holiday Vacation Club has signed onto a deal that sees it enter this lucrative market and become an immediate powerhouse. The deal we speak of is the one between LHVC and Al Habtoor Group and it sees the former expand its portfolio thanks to the already impressive offerings the latter operates in Dubai. They are primarily located within Al Habtoor City, which is a residential and leisure lifestyle destination in Dubai along Sheikh Zayed Road and the Dubai Water Canal.
This expansion of the "brand footprint in the hospitality industry" will allow Lifestyle Holiday Vacation Club to become "one of Dubai's premier high-end destinations continuing our promise of the ultimate experience in premier amenities and services," according to its president. One of the main reasons for this rapid ascension within Dubai tourism is because Al Habtoor Group already operates 14 world-class hotels within a luxury complex. The allure of these hotels is hard to deny. Hilton Dubai Al Habtoor City, for example, boasts such five-star amenities as a spa, multiple rooftop pools and a kid's club. At Habtoor Palace, LXR Hotels & Resorts, 22 restaurants and lounges will keep guests happy in between visits to its indoor tennis academy, 24-hour fitness facility and three swimming pools. The Metropolitan Hotel Dubai, which is now part of the expanded Lifestyle Holiday Vacation Club portfolio, will welcome guests across more than 300 rooms and nearly 20 suites. The additional of a shuttle service to the airport and buses to local attractions brings the best of Dubai closer than ever before. We expect that plenty of accolades will be laid upon Habtoor Grand Resort, which offers amazing views of the world-class Dubai Beach.
If you're planning an overseas vacation to escape winter weather, then members, VIPs and shareholders with Lifestyle Holiday Vacation Club should set their sights on the United Arab Emirates. Given the aforementioned tourism totals, the allure is already well-established. All it takes to secure an all-inclusive trip is choosing which Lifestyle Holiday Vacation Club property to stay at!